What Is Force-Placed Insurance?
Force-Placed Insurance is commonly used by most lenders to transfer property risk associated with Commercial, Residential, or Vehicle loans. Force-Placed Insurance has many names, such as Lender-Placed Insurance, Creditor-Placed Insurance, or Collateral Protection Insurance. These names are synonymous with Force-Placed Insurance.
Force-Placed Insurance has two components:
Insurance Tracking – The lender monitors the borrower's insurance policy per the requirements of the loan contract.
Lender-Placed Insurance – The lender has a certificate of insurance issued to protect the value of the collateral securing a specific loan. This certificate becomes effective if insurance tracking discovers the borrower's policy has lapsed or is insufficient based on the loan contract.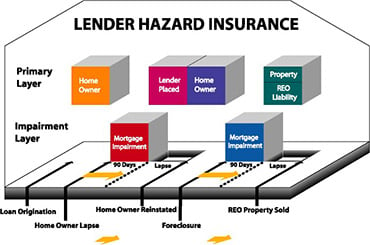 Features & Benefits of Force-Placed Insurance
When a lender makes a Commercial, Residential, or Vehicle loan, the loan underwriting decision takes into account the creditworthiness of the borrower as well as the value of the property. The lender assumes the credit risk associated with the borrower, but will typically transfer the collateral risk to a force-placed insurance program which will protect the value of the property for the life of the loan. The borrower is contractually obligated to maintain insurance to protect the collateral, but a 2016 poll from the Insurance Information Institute shows that five percent of homeowners do not maintain coverage.
The lender relies on insurance to protect the value of the property securing the loan. Insurance policies cover common perils include fire and vandalism, but wind and flood may not be covered. A lender must monitor the status of these insurance policies that protect the loan's collateral. See the "Miniter Complete Guide to Mortgage Impairment Insurance" for more information on the most common lender-placed insurance policies
Insurance Policies – There are three types of insurance policies used to protect the lender's interest. The borrower obtains the primary coverage based on the loan agreement. If the borrower fails to maintain this coverage, the Lender-Placed Insurance policy is used to protect the property for the lender and borrower. A final layer of insurance known as Mortgage Impairment Insurance is available to the lender if a loan default is due to property damage.
Lenders require borrowers to include them as Mortgagee on their primary Insurance policy. Once listed, the lender receives insurance company notifications related to that policy. The lender uses these notifications to track the status of the borrower's insurance. If the lender discovers a policy lapse or insufficient coverages per the loan documents, the lender will use the Lender-Placed Insurance policy to fill these gaps in coverage.